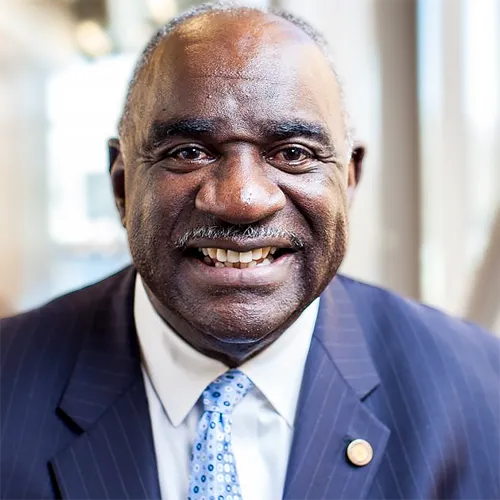 Gene R. Haynes was a teacher and an administrator in the Omaha Public Schools for over forty years. Formerly, the Principal of Omaha North High Magnet School, Mr. Haynes frequently finds himself working with third and fourth generations of a family. Affectionately known as "Mr. North High," his friendly demeanor and infectious smile endear him to all who know him.
Affectionately known as "Mr. North High," his friendly demeanor and infectious smile endear him to all who know him.
The youngest son of Ervin Haynes and Lovie Holmes-Haynes, Gene was born in Mississippi and named for his maternal grandfather, Gene Robert Holmes. During his high school career as a student-athlete, Mr. Haynes played varsity football and basketball. After graduation he attended Rust College in Holly Springs, Mississippi on a partial basketball scholarship, earning a varsity letter. Gene also lettered in track and was the 1966 Shot Put Champion for the Gulf Coast Athletic Conference with a distance of 46 feet, 11 inches. Mr. Haynes also excelled in the classroom, earning his bachelor's degree in Social Studies and Economics, and later a Master's degree in Education and Administration from the University of Nebraska-Omaha.
After college, Gene began his career with the Omaha Public Schools teaching history at Technical High School, later serving as Dean of Students. He was named Tech's head basketball coach in 1971 and continued to coach the team for 13 years. Mr. Haynes came to Omaha North High Magnet School in 1987 as Assistant Principal. A magnet school since 1983, North High focuses on technology, mathematics, science, and engineering for a highly diverse student population. Gene has tirelessly fostered business partnerships to help overcome the lack of funding. His efforts have paid off, as North Magnet was recognized as a Magnet School of Excellence in 2007 by Magnet Schools of America.
Gene and his wife Annie met at Rust College while working on decorations for the annual freshman coronation. They were married on December 21, 1968, by the late Reverend J.C. Wade at Salem Baptist Church where they have been members for 46 years. The couple enjoys spending time with their son Jerel, his wife Erin, and their grandson Caleb. Gene has also been active in the Prince Hall Freemasonry since 1974, the Fellowship of Christian Athletes since 1971, the NAACP since 1970, and the Nebraska State Athletic Hall of Fame since 1999.
Gene has received many honors, including 2000 the District II Administrator of the Year by the Nebraska State Athletic Administrators Association; the African American Award in 2004; 2006 the Tech High School Hall of Fame; Magnet School Principal of the Year in 2009; in 2011 the House of Representatives African American History Award; and in 2019 the Nebraska High School Sports Hall of Fame.
Gene Haynes is well respected by peers, staff, parents, and students. His accessibility and visibility contribute to his effectiveness as a school leader. Gene is an ambassador for North High and the Omaha Public Schools and a constant advocate for young people. Gene states "My problems are so minimal compared to what some of the kids in our school go through. Our job is to try and improve their lot in life."